Evening Dresses or Formal Attire should make you shine in the spotlight, showing the world your beauty from your head to your toes.
This is especially true if it's a special occasion to honor you! That promotion, the acceptance of an award, or a lovely evening out at the opera, these are all occasions where you want to look your best.
Can you just imagine how heads will turn when you have this lovely gown on. It's flowing fabric just flows around you and shimmers with beauty. It hugs all the right curves and skims over you like liquid gold.  The lovely lilac color is beautiful too.
If you want to be formal without the long length of dress, that's possible too. This beautiful two piece dress and jacket, made of lace will fit the bill perfectly. Lace is always a dressy fabric and with a touch of sequins added in, you just multiply the "beauty" factor. Finish this outfit off with some hose and fancy shoes.
You will be a walking goddess.
I must take a moment and explain, curvy ladies (IMHO all ladies) when you are going out to a formal or semi-formal event, you MUST wear hosiery. It is a touch that you may feel goes unnoticed, but I will tell you that it is indeed noticed. Hose on your legs helps to smooth out your silhouette from your toes right up to your waist. It is part of your foundation garments and should not be missed.
This lovely multilayered burgundy dress has some of those nice features with the flowing fabric and delicate layers, that make this style a real winner. This one is made with long sleeves for anyone who may not like their arms showing. I particularly like this style as I fall into the above category. Even in the dead of summer, I like my arms covered. Formal or semi-formal dress for any occasion where you want to be your best.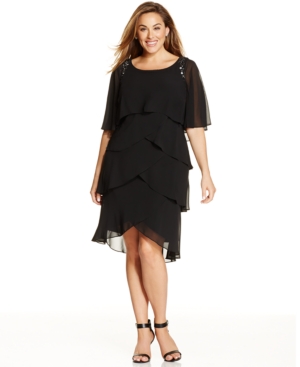 This little number is so pretty. Simple with its loose flowing elbow length sleeves, that just skim the elbow. Details like a little bit of beading add that dimension of elegance that no one can deny. A perfect little black dress for any "special" occasion. You will be at the height of perfection in this dress.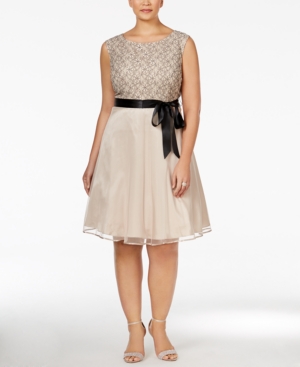 Now for something a little different again. This dress will fit you right at the bust with a nice accent belt/sash at the waist. From there a flowing skirt will just finish the dress off. Layers on the skirt will flow and look really nice. The bodice is covered with a lovely lace, while the skirt is done in layers with a chiffon-type overlay. Very feminine and delicate looking add some beautiful shoes and some jewelry and you are all set!
This dress with it's vivid print is a knock out. The colors and the style just go together so well. I love the split sleeve which looks V-shaped at the back and yet has a nice split at the inside elbow. This dress gives you the look of long sleeves with the benefit of a short one. Perfect for those evenings when it's a little cooler out.
I love this dress. It is very simple in it's styling and yet so elegant. The Cape like overlay just adds so much character to this dress. Embellishments on the overlay add just a little touch of sparkle. The color of this dress and the overlay with it's asymetric hemline, just look incredible.
 Turquoise is a beautiful color and the Satin combined with the light chiffon like overlay just work so well together. Again with the asymetric cut on the overlay brings just a bit of detail to the bottom of this dress. Look and feel like a million dollars without spending near so much. This dress is perfect for any dressy occasion.
This pink dress with its lacy fabric is just so pretty. Understated in elegance the long lines of beading that go from the neckline down to the A-line skirt draw the eye. The contrast just makes this whole dress "pop" in the nicest way.
Oooh lala, I didn't think I had saved the best for last, but, maybe I did. Talk about nice details on a dress. This one is just over the top. The neckline boasts a little sheer detail over the shoulders. The fabric with its coloring from a bright red to lighter and lighter shades with black accents added and a flirty hemline that is accented with a little bit of tulle. This dress with it's multicolored fabric outlined in Black just stands out as a real winner.
Can you just see yourself entering the party in this beautiful gossamer dress.  Layers of chiffon just skim the body in soft flounces with a lovely cape like effect at the neck and sleeves.  Beaded details just frame the whole neckline, making this dress sparkle brightly.
These are just 12 of some of the prettiest dresses you will find at Macy's and available to our Canadian Friends as well. Now you don't have to wait to cross the border to shop, you can do it right in the comfort of your own home.
Sign up for the newsletter if you would like to receive updates on What's available to make you look your best always.